Eckel Noise Control Technologies has been an industry leader in building acoustic research and testing facilities since 1952. Utilizing patented technology Eckel's full and hemi-anechoic chambers, portable anechoic chambers (PACs) and SuperSoft test chambers incorporate the most advanced acoustic design elements to create optimal sound environments suitable for virtually any type of acoustic testing or research.
Testing facilities designed for acoustic analysis are echo-free enclosures that provide a free-field environment, allowing sound waves to propagate in all directions without obstruction or reflection. Eckel's unique, patented wedge design provides an optimum level of sound absorption, allowing precise, repeatable acoustic measurements.
Oliver Eckel, the company's founder, helped lay the groundwork for anechoic testing by assisting in the development of Harvard University's Cruft Laboratory chamber in 1945. Commissioned by the National Research Defense Committee as part of a top secret research project it was the first anechoic chamber ever to be built. Since then Eckel Noise Control Technologies has continued to be a pioneer in the field of acoustic research having built facilities worldwide for a wide array of customers within the automotive, telecommunications, consumer product, aircraft/aerospace, audio, and academic communities.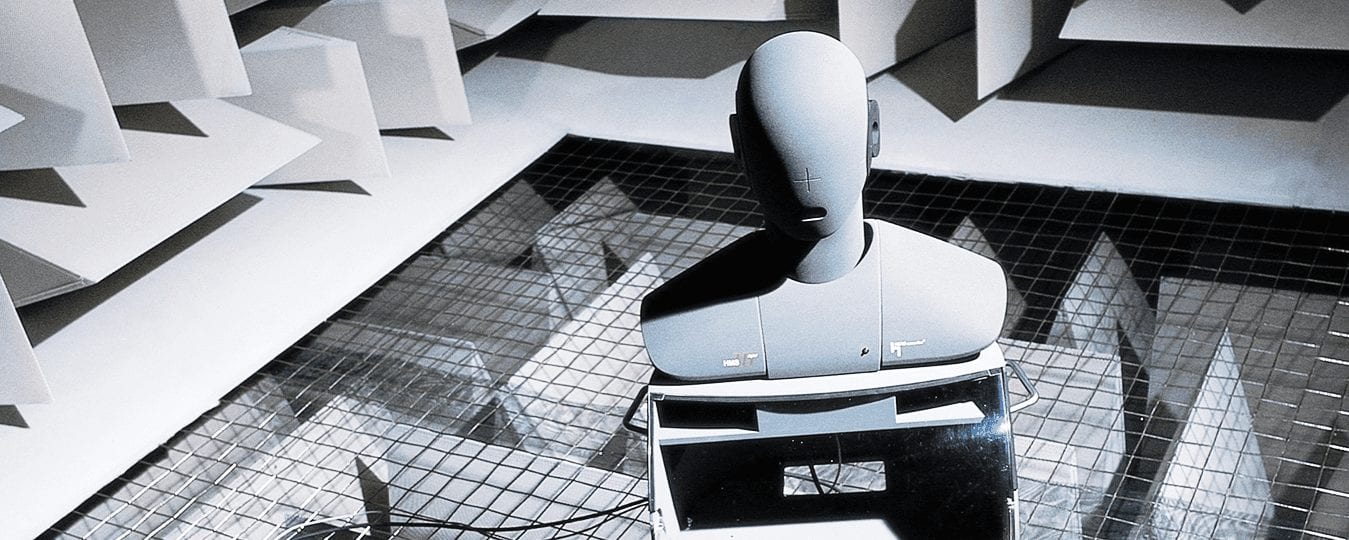 Eckel's Portable Anechoic Chambers (PACs) are full anechoic chambers scaled to a size that makes them ideal for a range of uses including acoustic testing of small devices, calibration of microphones, free field response testing of loudspeakers and behavioral studies of small animals.
These high performance chambers are available in a range of sizes with low frequency cut-offs of 150, 200, 250 and 450-500 hertz. As their name implies PACs are designed for versaility and portability and are available as complete pre-assembled chambers or in a sectional design that can be readily bolted or cam-locked together on-site for fast and easy assembly.   
Design
PACs are constructed utilizing a 2″-4″ thick sound attenuating outer wall structure with pre-tested anechoic wedges lining the interior walls, ceiling and door of the enclosures. Available wedge designs include perforated metallic , standard fiberglass , fiberglass cloth covered and standard E-element. The non-reflective floors provide a maintainable sound absorption level inside the chamber. Optional features and accessories include vibration isolation mounts, floor grating, ventilation, and instrument supports and hangers.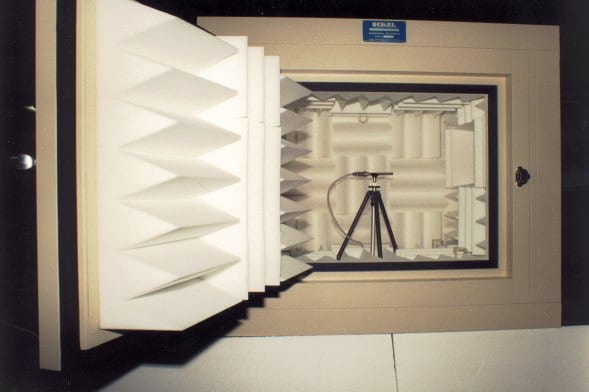 Typical Applications
PACs provide an optimal acoustic environment within which to perform a range of R&D tests related to the effect of noise and vibration on product performance and can reliably establish quality control benchmarks of mechanical and electric components and component systems. PACs also provide the ideal environment to test and evaluate a range of performance metrics and sound output levels of small audio devices such as cell phones, tablets and laptop computers.