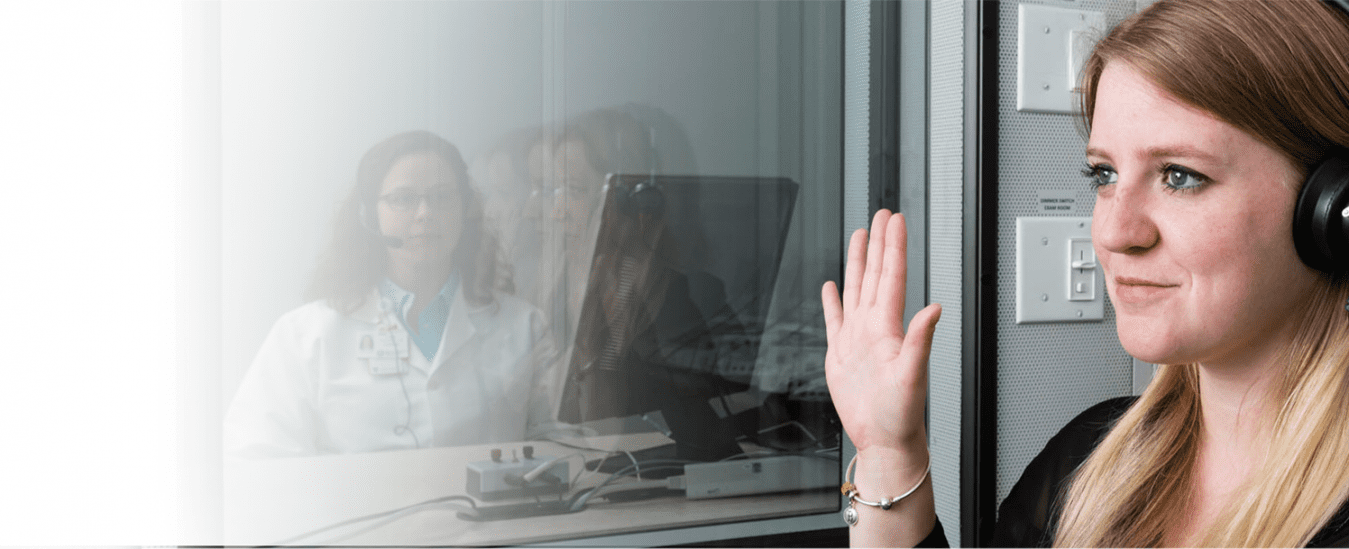 Eckel Audiometric Rooms integrate superb acoustics and ergonomics to create an ideal testing environment for a range of clinical and research procedures. Our broad selection of audiology rooms and suites offer clinicians and researchers an array of choices, all custom configurable, for which to select the ideal acoustic environment for their specific needs.
Designed and constructed using the same acoustic expertise incorporated into our audiometric rooms Eckel's recording studios and voiceover rooms significantly reduce external ambient noise to create a quiet and comfortable atmosphere for professional sound engineering and recording.
AB Series Booths
AB Series Audiology Booths offer big performance in a little package. Ideal for small footprint applications including medical offices clinical laboratories, schools, business and industrial settings. Booths are small enough to fit through a standard doorway while large enough to conduct testing. Unique in the market for mini-size, acoustic integrity, durability and utility. Cam-Lock models are fully demountable. Choose from Cam-Lock & Fully Welded models.
C/H & CL/HL Rooms
Eckel's C/H & CL/HL Series rooms are the gold standard of the audiology industry. These premium quality, innovative rooms offer a wide range of options designed for precise audiometric measurement, including audiology, research institutes and more. The series is ideal for industry and private clinics, featuring a clinical jack panel for greater versatility. Ideal for sound field measurements, brain stem audiometry, and hearing aid evaluation.
S Series Audiology Suites
Superb acoustic control is attained through high performance double walls, ceiling and floor panels providing outstanding noise control. Suites are available in double-wall designs for high ambient noise applications. Flush sill acoustic doors feature a continuous magnetic seal to maintain acoustical integrity. Custom audiology rooms can be tailored to specific space requirements, and generally include "Room within a Room" designs, which provide optimal acoustic isolation.
M Series Multi-Station
Multi-station suites are ideal for group testing environments. The series features high performance acoustic doors, fully isolated floors, custom interior wall coverings, carpeting and low noise ventilation and air-conditioning systems. Options include multi-glazed observation windows and Low Profile doorways. Designed for trouble-free testing. M Series engineered noise control products and systems are found wherever group testing is required.
Visit Eckel's ALL NEW website www.audiologyrooms.com developed for Audiologists and the Audiology Market.
Featured Projects
US Mint (Recording Room)
A U.S. Mint-turned-museum boasts high-tech recording capabilities devoted to the music and culture of New Orleans and Louisiana Early on in…
Read More...